Despite thousands of miles between them, Deborah Corn, Natalie Taylor, and Rosie Whitelock share a common goal. Each of them leads the charge in their country to empower women in print by providing mentorship, knowledge-sharing, and opportunities to connect with successful, like-minded print leaders. In this Q&A blog, these three women share their background in the industry, how they became involved with their organisations, and offer some sage advice to their younger selves.
Deborah Corn, Girls Who Print
Did you choose print, or did print choose you?
I didn't set out to become the Intergalactic Ambassador to The Printerverse, but there was a need for a connector of people, information and resources that wasn't attached to a sales pitch. By cultivating and leading the world's largest LinkedIn group for Print Production Professionals, that role was organically defaulted to me by the community, and in that the people of print chose me and provided the career path I am navigating today.
Do you think men and women have different leadership styles? How would you describe yours, and why is it effective?
I do think there is a difference between the management styles of men and women. The women who have managed me in general been more inclusive of data, feedback and input from their teams and in general have been more calculated when steering strategy and resources to a project, and more patient along the path to a desired outcome.
My management style is centered on the team only being as strong as its weakest link, and ensuring to the best of my ability that link is fully prepped and armed to succeed. I am a firm believer that people want to do their best, and supporting that creates a more positive experience for the individual, team, company and clients being served.
Please tell us about Girls Who Print, why you got involved, and how your group is serving your community.
Girls Who Print was founded by Mary Beth Smith in 2009 as a LinkedIn Group. I became Girl #2 helping empower the women of print with information, resources and open knowledge sharing in 2011, with a focus on community building that has resulted in more than 6000 global members. I became Girl #1 in 2017 when Mary Beth retired and Kelly Mallozzi is now Girl #2. In 2019 Girls Who Print partnered with the Printing Industries of America (PIA) to offer a free platform, womensprintnetworking.com, which enables the community to work together on a deeper and more personalized level to pass along knowledge and navigate the print industry and their careers. I am very proud of Girls Who Print and what it represents, especially to the students who are entering the industry and can tap into this significant resource for anything/everything print, marketing and sales-related.
What advice would you go back and give your younger self in regard to stepping up and standing out for career advancement?
I would go back and take advantage of continuing education programs that were offered by advertising agencies when I first started working. Since it was right after college the last thing I wanted was to go back to school, but I believe it was a missed opportunity and some formal business management training would have made a positive difference along the way, and especially now that I am running my own business.
Natalie Taylor, Women in Print Australia
Did you choose print, or did print choose you?
Print definitely chose me, as a child growing up I was absolutely in love with magazines in particular music and surfing. I used to read every issue from front to back an cut out all the pictures and articles and plaster them on my bedroom walls. We used to have a weekly newspaper called the Trading Post, which was a classifieds-based product, and my father would buy it every week and once he finished reading it, I would then look at it and circle out all the bargains. Print media allowed me to search, find and dream. At high school, I did my work experience at our local newspaper in the graphic arts department where they used to composite all the papers together via boards and bromides and we would photograph the pages and make printing plates ready for press. Fast forward 2 years later it then led me into taking on an apprenticeship in graphic prepress at that local paper and stayed on for 12 years. I was hooked into the print industry and have never looked back.
Do you think men and women have different leadership styles? How would you describe yours, and why is it effective?
100%, I think women do have different leadership styles. From my perspective, I think women have more empathy in their approach to communication. I am a good listener and have strong intuition and empathy. I let people talk and encourage them to share their views and opinions –I think it is critical in teams to have a safe space to share. Of course, the art of leadership is to then make the right calls and lead – but I think if you do it with assessing all the scenarios it's a much more considered outcome in my experience. I have seen leaders that are dictators and talk over the top of their peers. The result this can have on people's interactions within the business can be incredibly damaging and so many missed opportunities are not realised. Trust is really important in my leadership style – that goes both ways, the team needs to trust me and me for them as if that is broken, it is really hard to get that back.
Please tell us about Women in Print Australia, how you got involved, and how your group is serving your community.
Oh wow, Women in Print – where do I start. I just love being part of the industry for one, but being part of a group that supports, encourages and motivates women is just so rewarding. I first got involved when I was invited to be on a panel discussion at one of the breakfast events about 5 years ago where I had the opportunity to share my career story. I then had the opportunity to take on patron responsibility for the state of New South Wales – in Australia, we have a representative patron from each state to run their events each year. We meet once a year and map out our events and potential keynote speakers for the year and what we want to focus on. I think the event has so much buy-in from the women as it's an opportunity to come to a breakfast, hear from likeminded industry women on a panel which hopefully inspires the community, and then we have a keynote speaker which each year we focus on something that can help educate other members. It could be building your personal brand, the art of conversation or negotiation, confidence, resilience…..all things that can resonate with the audience. We are so lucky to have these events here and I am honoured to be part of it all.
What advice would you go back and give your younger self in regard to stepping up and standing out for career advancement?
Say YES to yourself and make the opportunity happen vs waiting to be asked. I am a big believer in making the opportunities you want to happen. I remember when I was working for the newspaper company and I could see an opportunity for the business to grow its revenue and print more volume, and the day I walked into the General Manager's office and had a box full of products that we weren't printing and said, we have capacity available and are you open to targeting and printing these publications which is not traditional newspapers. He said – great work – do you know anything about sales and I said nope, but I know how we should print them and will give it a red hot go! I wouldn't be where I am today if it wasn't for that moment. I wasn't asked to take on that role or duties – I took it upon myself to create that opportunity.  Today I am proud to be a National Sales Director for 2 of the biggest divisions at the largest print group in Australia – it took a lot of hard work and have learned so much doing so with putting myself out of my comfort zone and making it happen, and I absolutely love it and wouldn't have done things any differently.
Rosie Whitelock, Women in Print UK
Did you choose print, or did print choose you?
Print chose me… as our family business is in the print industry I grew up around print. I think I was always destined to lead Bonacia.
Do you think men and women have different leadership styles? How would you describe yours, and why is it effective?
I don't think management styles differ by gender specifically. However, I do think that women can tone themselves down so they don't come across too harsh. I'm very laid back in my management style and like to give people as much autonomy as possible. This works really well with most people but can be tricky for those who are not really self-motivated.
Please tell us about Women in Print UK, how you got involved, and how your group is serving your community.
We started Women in Print at the end of 2018 after the print awards season. After attending these events and reading through industry publications I noticed they were heavily male-dominated. We wanted to start a group that would allow women in the print industry to come together and support each other. We would love to see more women at print events and on the pages of publications. So far we have held 2 networking events and presented the first-ever Women in Print Award. These events have brought women together and started to create the supportive network we are striving for.
What advice would you go back and give your younger self?
Ohhh, that's a good question. I think it would be to believe in myself a bit more. I think self-doubt has held me back over the years and I should have had a little more faith in my own abilities early on.
---
As someone fairly early on in their career, it's great to have the chance to implement some of the advice that these successful female leaders wish they could give to their younger selves. Taking advantage of the advancement opportunities that are out there, and believing in ourselves enough to take them, are pearls of wisdom that can apply to a huge range of skills and careers – I look forward to carrying those insights with me on my career path, and I hope you do too.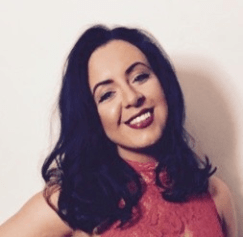 Karis Copp is a UK-based writer, journalist and communications expert. With a background as an editor and public relations specialist in the print industry, she now works on a freelance basis covering events, writing on industry news and trends, and working with businesses to help them tell their stories and connect with their customers. Follow her on Twitter @KarisCoppWrites.